All-on-4 Dental Implants – Fayetteville, GA
Fewer Implants, More Smiles
Although it isn't talked about openly very much, total tooth loss is probably more common than you think. In the United States alone, about 30 million people have no natural teeth left at all. Traditionally, dentures rely on suction to hold dental prosthetics in place, but dental implants have revolutionized how people replace missing teeth. More specifically, All-on-4 dental implants in Fayetteville can bring back your smile's aesthetics, function, and vitality without replacing each lost root individually. If you are interested in learning more about an All-on-4 option, contact us to set up a consultation.
Why Choose Sparkling Smiles for All-on-4 Dental Implants?
Advanced CBCT Imaging for Precise Placement
100+ Hours Dedicated to Continuing Education Per Year
Personalized Treatment Plan for Each Patient
How Do All-on-4 Implants Work?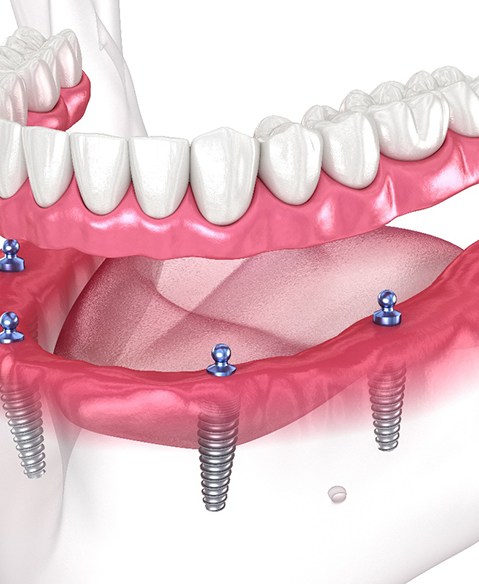 When you substitute a normal dental implant for a missing tooth, there is one post that integrates with the jawbone. Then, a dental crown is placed on top, completing the whole tooth structure. However, that doesn't mean that implants can only replace one tooth at a time. As the name implies, All-on-4 implants take advantage of only 4 strategically placed posts to hold onto an entire denture.
Am I a Candidate for All-on-4 Implants?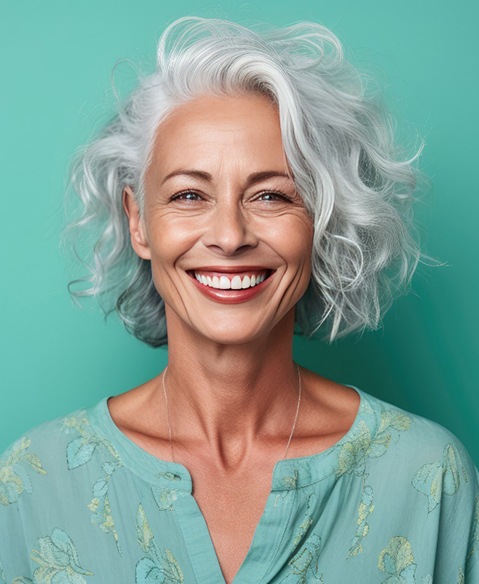 In general, to qualify for All-on-4 implants, you must meet the same requirements as you would for traditional implants. You must not have any oral infections, such as gum disease, and you must be in good health overall. Certain conditions, such as uncontrolled diabetes, could keep you from being eligible. However, unlike normal implants, the minimum jawbone density for All-on-4 implants isn't typically as high, which means you may be a good candidate even if your jawbone has suffered some deterioration. This also means that you may not have to undergo a bone graft in order to get these implants.
Benefits of All-on-4 Implants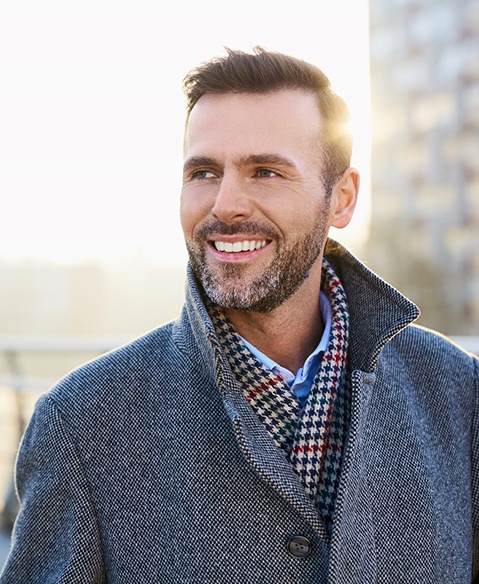 When it comes to tooth replacement, All-on-4 implants offer benefits you won't get with regular dentures, including:
Permanent reinforcement in the jawbone.
Stronger bite and chewing power than with dentures alone.
Longer-lasting, more stable dental prosthetics.
Fewer implant posts than regular implants.
Less need for bone grafts.
All-On-4 vs. Traditional Implants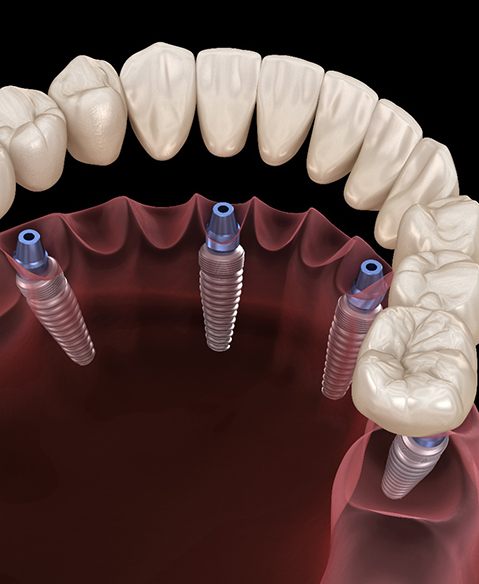 With All-on-4 implants, you not only reduce the number of implant posts in your mouth, but you also enjoy the advantages of more efficient tooth replacement. Toward the back of the mouth, jawbone density tends to be lighter, but All-on-4 implant posts can be tilted and directly integrated with the front part of the jaw, where the bone is stronger. As a result, you not only may skip bone grafts, but you may not need quite as many implant posts to secure a whole denture.
Because there are fewer posts, the overall implant process is significantly faster. In fact, sometimes the dentures can be attached on the same day as placement!