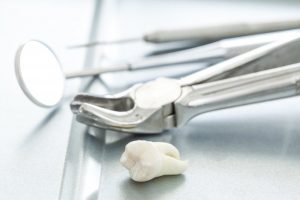 You know you shouldn't chew on ice, but it's a habit you've had since childhood. But then, one false bite has left you with a cracked tooth. Pain shoots through your mouth, and you rush to see your dentist. Unfortunately, the crack has gone deep below the gumline, which means the tooth needs to be removed entirely.
You start to panic. Is extraction really necessary? What will the procedure feel like? Will it hurt? Read on to find out what you can expect from your tooth extraction.
Why Extraction Is Sometimes Necessary
As a general principle, your dentist likely avoids tooth extractions as much as possible. They consider all the options until extraction becomes the best treatment for your smile. Situations when extraction becomes necessary include the following:
A tooth is too badly decayed or damaged to be salvaged with root canal therapy and a dental crown.
Orthodontic treatment is needed, but the permanent teeth are overcrowded.
Teeth are impacted or erupting at an unsafe angle.
A new denture is being fabricated.
What a Tooth Extraction Feels Like
Even though an extraction is considered surgery, patients generally remain awake during the procedure. First, your dentist will administer a local anesthetic as well as some sedation to help you feel completely comfortable and at ease. After the anesthetic has taken effect, they will use dental instruments to loosen the tooth from its socket within the jawbone, which often requires quite a bit of force. During this time, you should not feel pain, but you may feel some pressure. Your dentist will gently remove the tooth and close up the gum tissue.
How to Recover Properly from a Tooth Extraction
The surgical procedure itself may not involve pain, but you could experience some discomfort during your recovery. In the hours and days following the extraction, you may take over-the-counter pain reliever and apply a cold compress to reduce swelling and pain. You also may need to stick to a diet of soft foods for a while and avoid chewing in that area to allow the site to heal.
It's important that you allow a blood clot to form and stay on the surgical site because it protects the gum tissue and prevents complications. If the blood clot comes off before the tissue has healed, you could get a painful infection called dry socket. To stop this from happening to you, avoid using a straw, smoking, or doing anything that could suck or force the clot out of position prematurely.
Ultimately, getting a tooth extracted doesn't have to be as intimidating as it may initially seem. Armed with this information, you can know exactly what to expect and feel confident about your treatment.
About the Practice
Sparkling Smiles Family Dental has proudly been serving the Fayetteville community for nearly 40 years with conservative dental care. Dr. Dave Lee and Dr. Lauren Lee Polito treat patients ranging in age from small children to aging seniors. Dr. Lee spends more than 100 hours in continuing education every year, well above the required number, and Dr. Polito has taken several courses on extraction surgery. If you have a tooth that should be extracted, you can schedule an appointment through Sparkling Smiles Family Dental's website or by calling 770-461-6465.