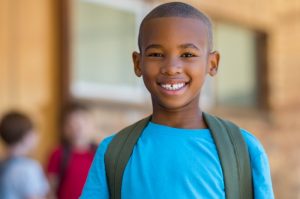 Will your child make new friends? Will they catch on to what the teachers teach, or will they struggle? As a parent, you can worry about your child starting school again. You want to protect them, but you have to let them experience the ups and downs that come with growing up. But there are certain hazards you can avoid—like dental emergencies.
A dental emergency can not only be extremely painful, but it can also distract your child from being able to learn and connect with their teachers and classmates. To get ready to go back to school and prevent dental emergencies, here are four tips you should follow before your child starts a new year.
Keep a Strict Oral Routine
Maybe you and your child got a little lazy during the summer when it comes to normal routine. Or perhaps you're rushing to get them to school on time. However, skipping brushing and flossing even just a few times can allow plaque and bacteria to linger and harden on teeth, eventually leading to painful tooth decay.
Make sure your child establishes smile-friendly habits and actually does them each morning and night to prevent cavities from interfering with their schooling and socializing.
Make Smart Food and Drink Choices
If you pack your child's lunch, you can make sure they are getting a balanced meal. To reduce the chances of cavities, avoid giving them overly sugary or carb-heavy foods. You also might want to avoid hard or crunchy foods to prevent chips or cracks in their teeth. Juice, sports drinks, and soda are also conducive to tooth decay, so let them have these beverages sparingly.
On the other hand, there are plenty of foods that are beneficial for your child's smile. For instance, apples, carrots, and celery are very fibrous, which means they require quite a bit of chewing. As a result, the mouth salivates, rinsing food bits, plaque, and bacteria off teeth.
Visit the Dentist for a Checkup and Cleaning
Before your child enters a new year at school, it's a good idea to have their smile checked out by your family dentist. Not only can they spot and treat tooth decay before it becomes a serious problem, but they can also perform a cleaning, which makes your child's smile even more brilliant and confident!
Get a Mouthguard for Sports
Is your child involved in sports? You would never allow them to go out on the field to play football without a helmet, but sending them to practices and matches without a mouthguard can end in a dental injury. This small oral appliance takes the blow instead of your child's teeth, sparing you both from a dental emergency situation. Fortunately, your dentist offers custom mouthguards that fit perfectly and comfortably—ask for one at your child's next appointment!
In the end, who knows what your child may experience this year? They will probably have challenges and victories, but if you follow these tips, you can lower the risk that they'll have dental emergencies.
About the Practice
At Sparkling Smiles Fayetteville, we have been serving the community for nearly 40 years. Dr. Dave Lee and Dr. Lauren Lee Polito are happy to treat patients of all ages, including children and teens. We enjoy helping families learn how to care for their oral health and manage dental emergencies when necessary. If you have a dental emergency or need an appointment for your child, you can reach out to us on our Contact Us page here or by calling our office at 770-461-6465.