Advanced Dental Services & Technology – Fayetteville, GA
Using Advanced Technology
for Trusted
Diagnoses & Results
Our dental office doesn't just have a modern decorative touch, it's also equipped with the most advanced dental technology, like our cavity detection system, CEREC, and soft tissue laser. We use tested and proven technology to lead to accurate diagnoses and provide precises, detail-oriented treatments that lead to phenomenal results. You can learn more about some of the instruments that you may see around our dental office by reading below.
Intraoral Camera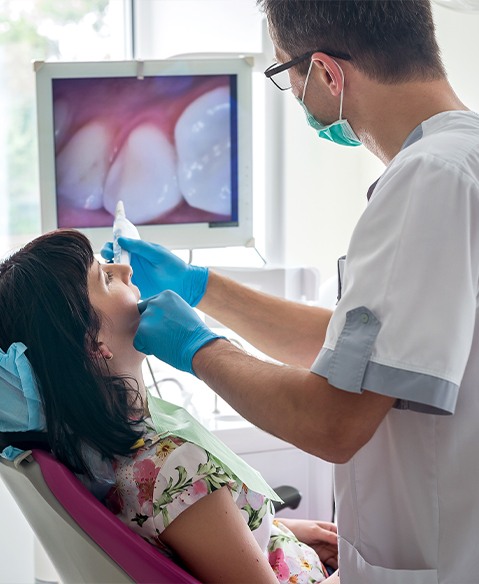 Our intraoral camera is a small, handheld device that we can maneuver around your mouth to take a closer look at hard-to-see areas. The video footage is displayed on a large chairside monitor that will allow you to see exactly what we're looking at. This serves as an excellent visual aid to show you what problem you're facing and how our recommended treatment plan can help address it. We can also capture photos with the camera in case the footage is difficult for you to see when you have your mouth open.
Digital X-rays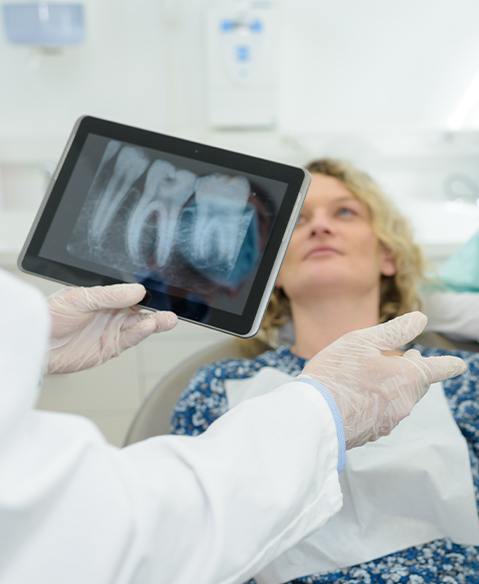 In the past, dentists would use film X-rays to see the area of your mouth that lies below your gums. Not only did this method of imaging take longer, but it also wasn't very high quality, which could lead to inaccurate diagnoses. Today, we use digital X-ray imaging, which is faster, safer, and more effective when it comes to diagnosing oral health problems like cysts, tumors, and infections. Digital X-ray imaging exposes patients to up to 95 percent less radiation, making it safer for children and adults.
CT/Cone Beam Scanner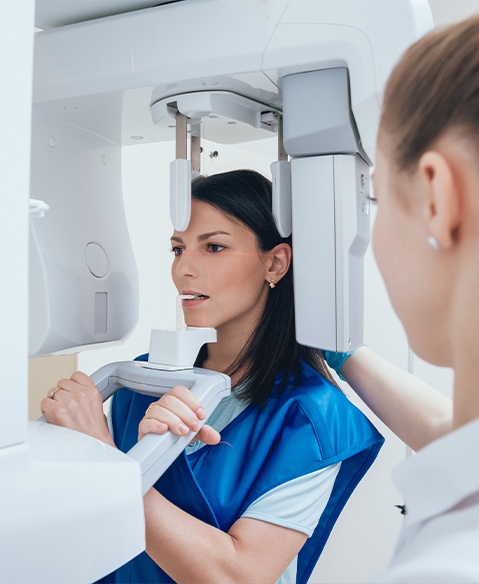 Our cone beam CT scanner is an advanced device that captures a 3D, panoramic blueprint of your entire facial structure. It allows us to see facial nerves, dentition, and both of your jaws, which is great when planning dental implant procedures and treating TMJ dysfunction. The process of capturing the image takes less than 30 seconds and doesn't involve putting you in a super uncomfortable position, so you won't have to worry about that!
Digital Impression System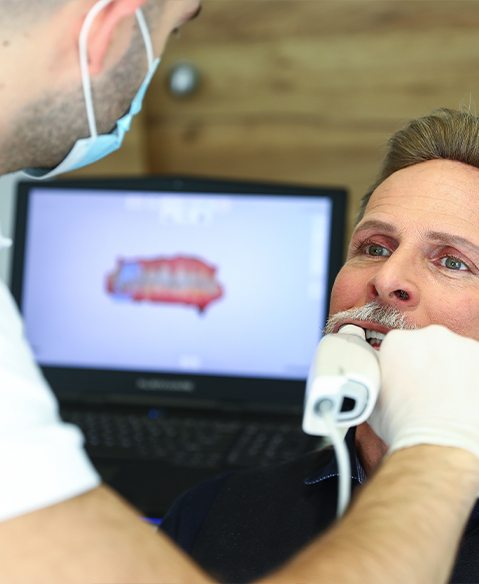 Our digital impression system is a neat device that replaces uncomfortable putty impressions. Instead of placing a chunky and gag-inducing piece of putty into your mouth to capture a mold for a crown, bridge, or mouthguard, we use a small wand. After moving it around your mouth, it will build a 3D digital blueprint of the area that we can either send off to our dental laboratory or send to our in-house milling machine, depending on what treatment you're receiving.
Soft Tissue Laser Dentistry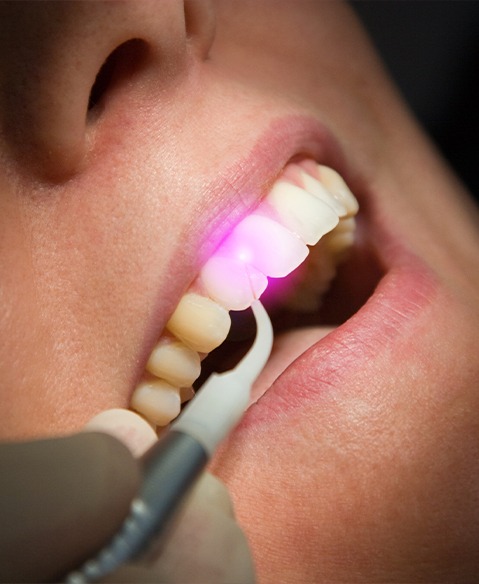 Our Discus Diode Laser emits a small, concentrated beam of light from the tip of it that can be used to remove excess oral tissue, kill harmful bacteria, or treat a lip or tongue tie on a child. This soft tissue laser replaces daunting scalpels and sutures, all while providing a more comfortable procedure with less of a recovery time. The laser cauterizes the area on-contact, which minimizes any bleeding and drastically reduces risk of infection after treatment.
The Wand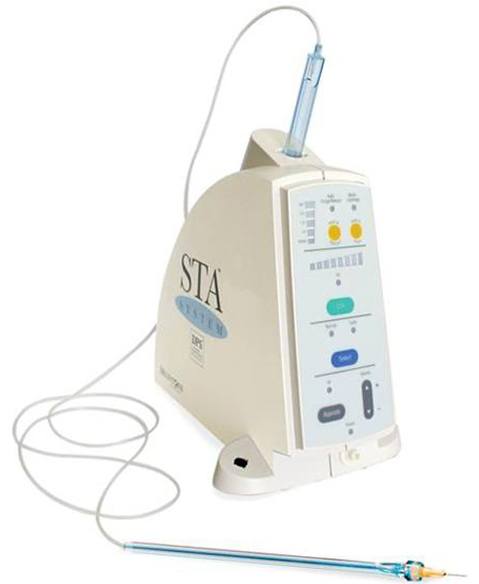 The Wand is a device that allows us to painlessly administer dental anesthesia without a needle in sight. This is great for patients who are hesitant about getting shots but are having a treatment that requires a tooth or area of the mouth to be numb. As we work, The Wand allows us to control the flow of anesthesia to an area at the precise rate for the density of the tissue. This eliminates any collateral numbness that patients typically feel when they receive anesthesia, because it only delivers the numbing agent to a localized area.
Cavity Detection System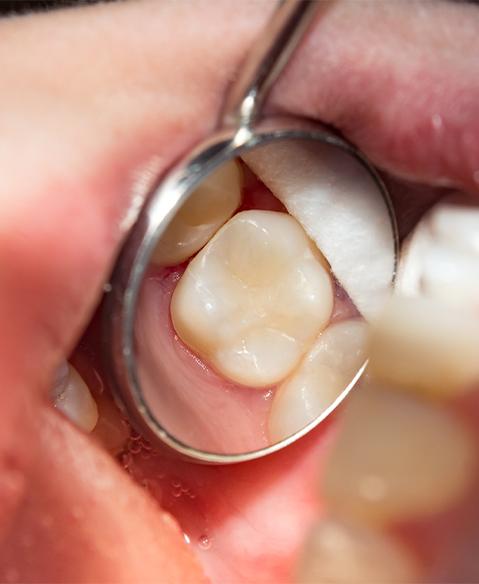 Our SOPRO Camera is an amazing gadget that allows us to spot even the earliest signs of decay in teeth. It uses fluorescent light technology to highlight areas of decay, allowing us to provide proactive treatment that's minimally invasive. It also allows us to see interproximal decay, or cavities that are forming between the teeth and aren't as easily spotted during visual examinations because they're hidden so well.