Veneers – Fayetteville, GA
Address Several Dental Imperfections At Once
When you look at your smile, do you wish your teeth were straighter, whiter, or more even? Then you'll be happy to hear that veneers can address several dental imperfections at once! Plus, you won't have to wait years to achieve the smile you've always wanted – the entire treatment process can be completed in three visits or less. These are a few of the many reasons this cosmetic dental treatment is so popular. If you want to learn more, don't hesitate to give our team a call or read on.
Why Choose Sparkling Smiles Family Dental for Veneers?
Father-Daughter Team of Dentists
Utilizes the Latest Dental Technology
Flexible Financing Available
What Are Dental Veneers?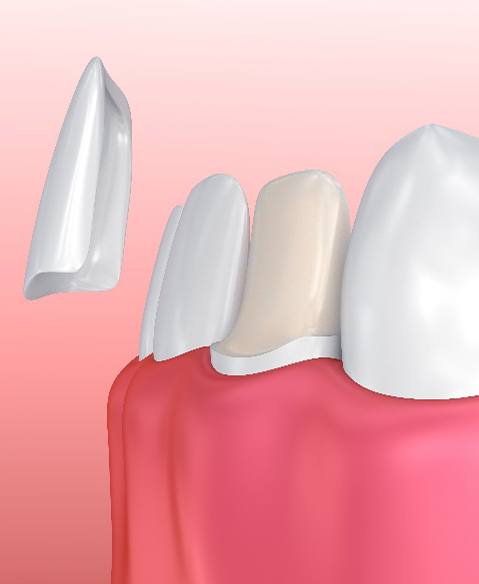 Today, veneers are one of the most sought-after cosmetic dental treatments. To address common imperfections – including noticeable chips, severe discoloration, and small gaps – thin shells of porcelain (and other high-quality dental materials) are adhered to the front-facing surface of your teeth. Whether you want to fix one flawed tooth or completely makeover your smile, the end result will look beautiful and feel natural.
The Process of Getting Veneers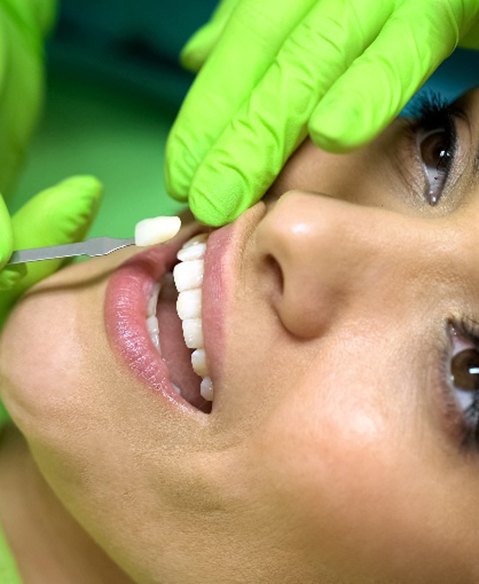 The veneers process is broken down into several steps. The first is your consultation with one of our talented Fayetteville cosmetic dentists. This is the appointment where we will learn all about your smile goals and determine if you're a candidate for veneers. If you are, then it will be time to move onto the next step!
To ensure your veneers blend in seamlessly with your smile and don't protrude unnaturally in any way, we need to "prep" your tooth by removing a small sliver of enamel. Then, we will take impressions of your teeth and send them (along with the size, shape, and color of your veneers) to the lab artisans. While they work on your permanent veneers, we will provide you with a temporary set.
After a few weeks, you'll return to our office for the final step of the treatment process. We will remove your temporary veneers, secure the permanent ones in place, and make any final adjustments necessary. Then, you'll be able to enjoy your new and improved smile in all its glory!
The Benefits of Veneers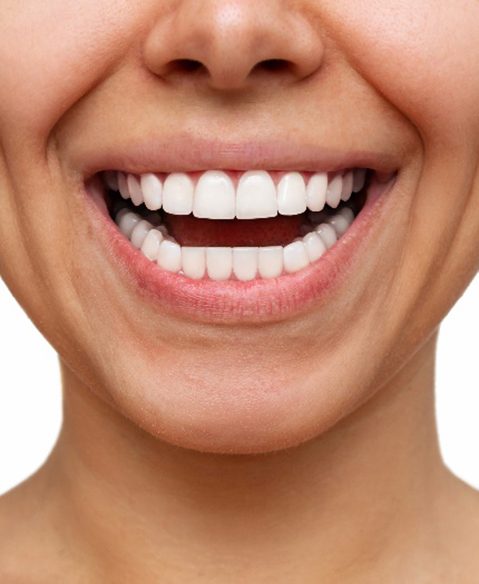 There are several reasons veneers are a popular cosmetic dental treatment year after year, including:
Veneers are versatile.
Veneers can be placed in three visits or less.
Veneers are custom-made for each patient.
Veneers are easy to care for (use the same best practices you do for your natural teeth).
Veneers are stain-resistant.
Veneers can last for 10+ years with the right best practices in place.
If you are interested in learning more about veneers or you're ready to schedule a consultation, give our team a call today!
Understanding the Cost of Veneers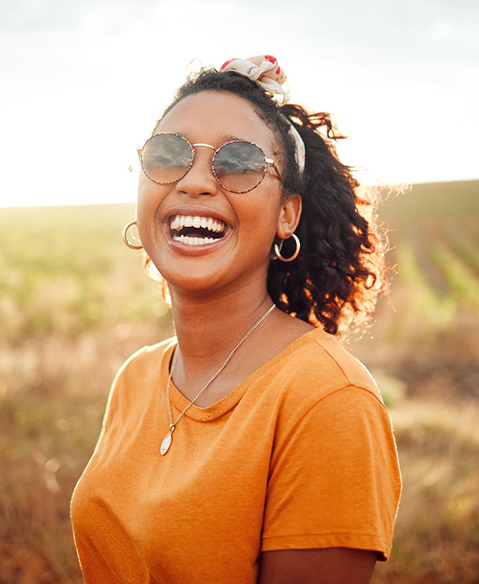 Before you begin veneers treatment, you're probably wondering how much it'll cost. Unfortunately, because each case is unique and varies from the next, we can't provide a general price estimate. We consider many factors, such as the number and location of the teeth being treated. However, when you come into our office for a consultation, we can put together a custom treatment plan and give you the cost based on your needs.
Cost vs. Cosmetic Dentistry: What's Right for Me?
For aesthetic changes to your smile, you have many treatment options, and we understand that cost can be a significant deciding factor. Understanding the relative pricing of each may help you determine which treatment is the one you want.
Braces: This treatment is reserved for more severe alignment problems. This treatment not only takes considerable time and investment, but it also temporarily affects your smile's appearance. If you have only minor misalignment, veneers could be a faster and more cost-effective option.
Teeth Whitening: Generally, teeth whitening is the most affordable cosmetic treatment; however, it only addresses color, and some types of discoloration don't respond to it. If you have other issues with your teeth or stubborn stains, you may want to go with veneers.
Direct Bonding: Although bonding tends to cost less than veneers, it doesn't last nearly as long, and it is more susceptible to staining over time.
Veneers: When it comes to changing how teeth look in the long term, veneers are a smart choice; plus, because they look so realistic, they are well worth the cost.
Of course, to get and compare precise quotes on each of these procedures, you'll need to make a consultation appointment.
How to Make Veneers Affordable
At Sparkling Smiles Fayetteville, we occasionally have special offers on our services, such a free Smile Analysis until October 31, but they are often only available for a limited time. However, even if we don't have any discounts going currently, you can still enjoy convenience; we can help you apply for low-interest financing to pay for your veneers over time. That way, you can make smaller monthly payments instead of a larger one-time sum.
Frequently Asked Questions about Veneers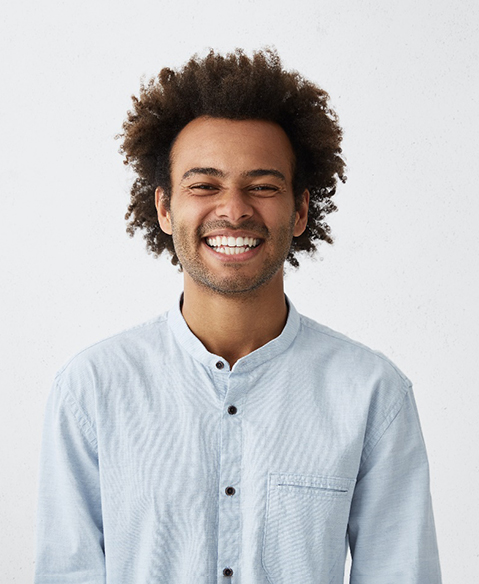 Do you have questions about this amazing cosmetic dental treatment? It's natural to want to understand as much as possible before you move forward with an investment in your smile, and at Sparkling Smiles, we welcome your questions. In fact, we've answered some of the most common ones below, but we invite you to call our office if you have others or need clarification. We'll gladly set up a consultation for you and address all your concerns.
How Much Enamel Is Removed for Veneers?
The prospect of taking away any amount of tooth enamel may seem intimidating at first, but without it, your veneers would stick out and look fake. Fortunately, we will only remove about 0.5 millimeters—just enough for the thin veneers to have a natural appearance. Before we take this tiny amount of enamel off the front of your teeth, we will administer a local anesthetic, so you won't feel any discomfort during the process.
Will My Diet Need to Change When I Get Veneers?
At first, you may need to make slight changes to your diet, specifically while you are wearing temporary veneers and immediately after your custom ones have been attached. It's a good idea to stay away from nuts, chips, or other hard, crunchy foods. Sticky candy or dried fruit can also cause your temporary or brand-new veneers to come off. You should also consider limiting your sugar intake, including soda, sports drinks, candy, baked goods, and more, to prevent decay in the teeth behind the veneers and breakdown in the adhesive.
Will My Teeth Feel Sensitive?
You may experience some tooth sensitivity when you get veneers, particularly while wearing the temporary ones. Remember these are not perfectly fitted for your teeth. On the other hand, when you get your custom veneers, your mouth should feel comfortable and natural. For the short time you wait for them, we advise you to use a straw when drinking cold or hot beverages to avoid sensitive reactions.
How Can I Make My Veneers Last as Long as Possible?
Your veneers have the potential to go for 10 or more years before showing signs of wear and tear, but it largely depends on how well you care for them. In addition to brushing and flossing your teeth daily, regular checkups and cleanings at Sparkling Smiles can keep oral bacteria and stains under control. Also, if you regularly come to our office, we can watch out for signs of age in your veneers or other indications that it's time to get new ones. That way, your smile always looks pristine!