Emergency Dentistry - Fayetteville, GA
There for You When
You Need Us
the Most
Dental emergencies always happen at the least expected, most stressful times. That's why it's always good to have the phone number of a local, trusted emergency dentist on-hand, just in case. Our team at Sparking Smiles Fayetteville offers same-day appointments for patients in pain and is even happy to help you outside of our dental office hours on the weekdays. If you find yourself in the midst of a sticky dental situation, give us a call, so we can get you fast, trustworthy emergency dentistry in Fayetteville, GA.
Why Choose Sparking Smiles Fayetteville for Emergency Dentistry?
Same-Day & After-Hours Emergency Appointments
Trustworthy, Father-Daughter Dental Duo
Sedation Dentistry Available
How to Handle Common Dental Emergencies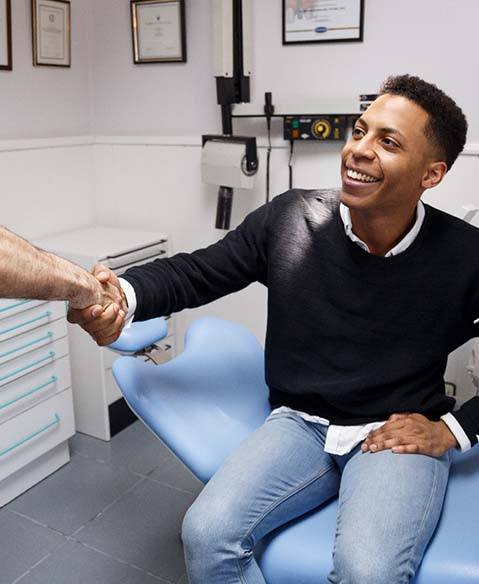 Emergency situations leave many patients in shock and unable to think clearly, which is why we always recommend calling our dental office immediately. We'll provide you with first-aid guidance over the phone and make sure that your smile doesn't sustain any additional damage. We'll also schedule you an appointment for as soon as possible so we can help calm you down and get you out of pain. Below, we've included some helpful tips to deal with some common dental emergencies that we see as you're making your way towards our dental office.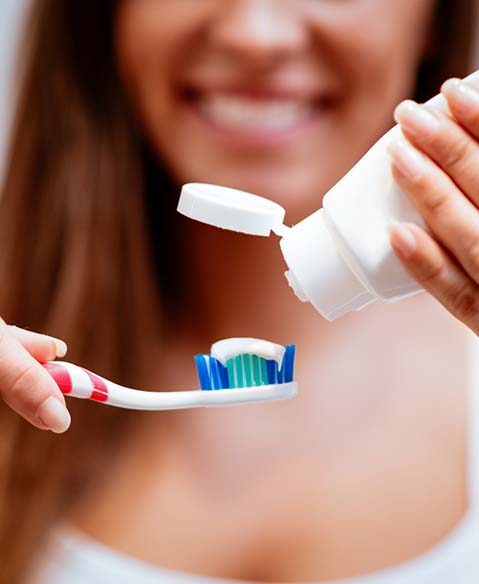 Toothaches
Toothaches are often a sign of a dental infection that's hidden deep within your tooth. To help ease your pain, you can take an over-the-counter pain medication, like ibuprofen. You can also place a cold compress on the outside of your face for 10 minutes on, 10 minutes off to help bring down any swelling.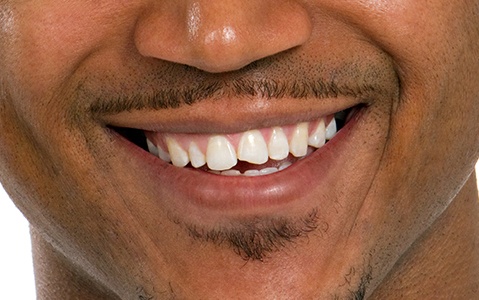 Chipped/Broken Teeth
If you're able to find and retrieve the broken-off portion of your tooth, be sure to bring it to your appointment with you. If the damage has created a jagged edge, place a piece of orthodontic wax over it to keep it from stabbing or irritating the inside of your cheek or lip.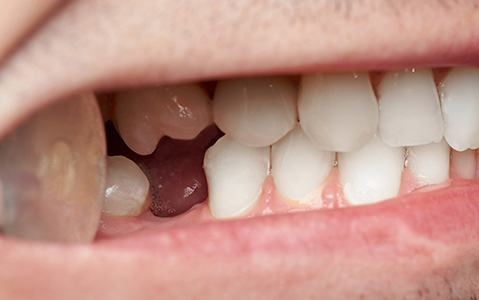 Knocked-Out Tooth
Time is of the essence, so quickly retrieve your tooth, being sure to only handle it by the biting surface, and rinse it under cool water to clear away any dirt and debris. Store the tooth in a sealable container of milk or salt water to keep it viable and bring it with you to our dental office.
Lost Filling/Crown
If you're able to find your lost filling or crown, pick it up and rinse it under cool water. You can temporarily reattach it to your tooth using a dab of toothpaste or denture adhesive, but keep in mind that this isn't a permanent solution. In order to prevent an infection from developing, you'll need to have it professionally repaired or replaced.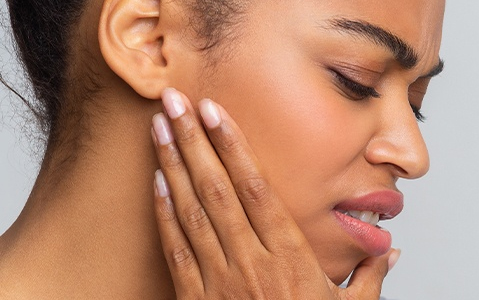 Head/Neck/Jaw Pain
If you experience jaw tension, lockjaw, or you grind and clench your teeth every night, you could have a condition known as temporomandibular joint dysfunction, or TMJ dysfunction. Our team at Sparking Smiles Fayetteville offers several custom-tailored treatments to help ease the strain on the jaw joints connecting your lower jaw to your skull, so you can eat and speak without experiencing discomfort.
How to Prevent Dental Emergencies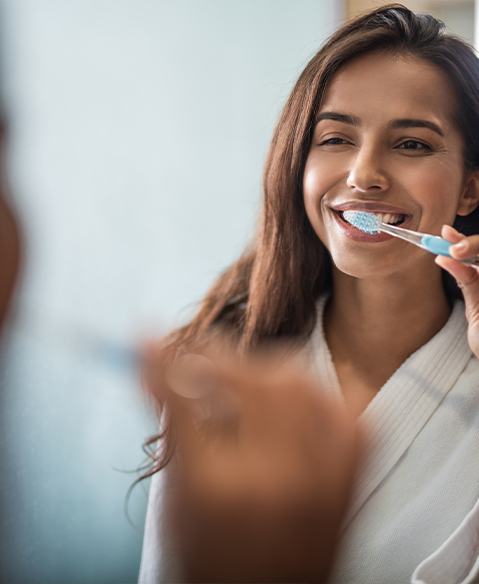 It's impossible to completely avoid accidents, but there are some ways that you can reduce your risk of accidentally damaging a tooth or developing a severe oral health problem:
Brush your teeth twice a day for two minutes each day with fluoride toothpaste
Floss at least once every day
Protect your teeth from nightly grinding and clenching
Quit bad oral habits like tobacco use
Visit us for your bi-annual checkups and cleanings
Maintain a well-balanced diet
The Cost of Treating Dental Emergencies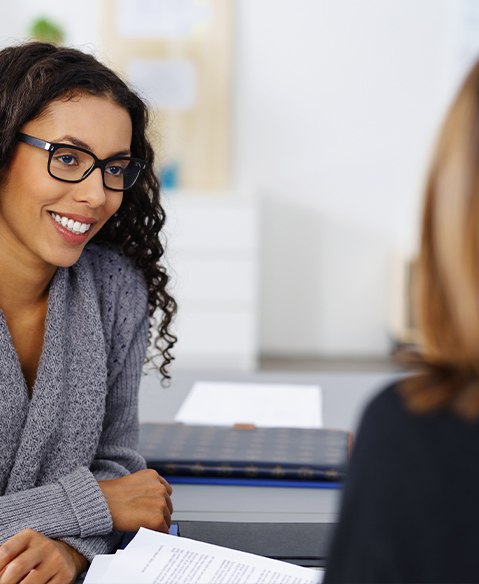 Every dental emergency is different, which is why we aren't able to determine what treatment you need or how much it will cost until after we've had a chance to examine your mouth. After we've collected all of the information we need to diagnose the problem, we'll walk you through all of your treatment options, along with pricing details. If you have any concerns or questions, don't hesitate to ask us!
Root Canal Therapy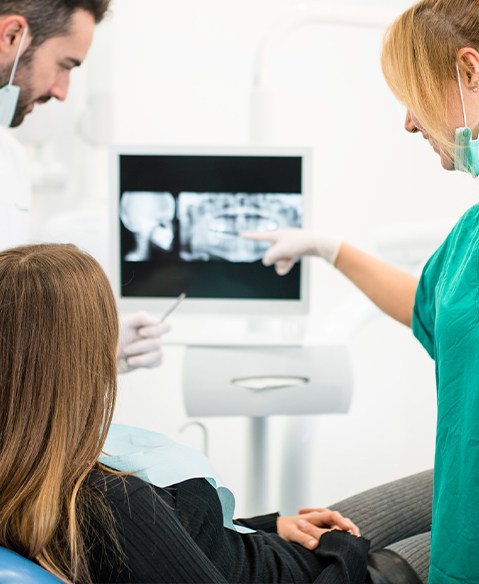 Root canals are notoriously known to be a treatment that you want to avoid at all costs. However, that will most likely only make your pain and the problem at hand even worse than it already is. We'll make sure that you're completely numb before treating you, and after your procedure is complete, you'll be able to enjoy a healthy smile again. Although root canals may seem scary based on all of the rumors floating around about them, they're really not! We also offer sedation dentistry to help you feel more comfortable if you're especially anxious.
Tooth Extractions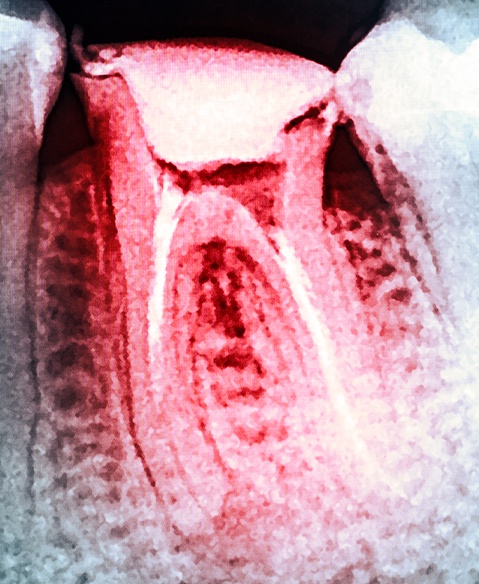 We understand that there's no substitution that can compare to your home-grown teeth, but in certain situations, the best option for your oral health may be to remove a severely damaged or infected tooth. In these cases, we'll conduct a tooth extraction. Afterward, we can work with you to determine what tooth replacement treatment will best fit your needs. That way, you won't have to live with a gap in your smile for any longer than necessary.