Emergency Dentist — Fayetteville, GA
There for You When
You Need Us
the Most
Dental emergencies always happen at the least expected, most stressful times. That's why it's always good to have the phone number of a local, trusted emergency dentist in Fayetteville, GA on-hand, just in case. Our dental team at Sparking Smiles Fayetteville offers same-day appointments for dentistry patients in pain and is even happy to help you outside of our dental office hours on the weekdays. If you find yourself in the midst of a sticky dental situation, give us a call, so we can get you fast, trustworthy emergency dentistry.
Why Choose Sparkling Smiles Fayetteville for Emergency Dental Care?
Trustworthy, Father-Daughter Dental Duo
Same-Day & After-Hours Emergency Appointments
Relaxing Sedation Dentistry Available
How We Treat Dental Emergencies
Emergency situations leave many patients in shock and unable to think clearly, which is why we always recommend calling our dental office immediately. From there, here's what you can generally expect:
We'll schedule you a same-day or after-hours appointment. We do everything we can to see patients the same day they call us, even after normal business hours! Over the phone, we'll schedule your appointment and provide first-aid guidance to manage your situation until you can reach us.
You'll get an emergency exam from Dr. Dave Lee or Dr. Lauren Lee Polito. When you arrive, your Fayetteville emergency dentist will see you right away. They'll examine your smile and relieve any serious pain you may be in.
We'll review our findings with you and create a treatment plan. Next, we'll fully explain which treatments we recommend, including taking the time to cover the estimated length and cost. Together, we'll work with you to create a personalized treatment plan.
Get the fast, professional care you need right away. With the latest dental techniques and technology at our disposal, our talented team can get to work right away repairing your smile and saving your teeth. If needed, we offer calming sedation dentistry to help you relax.
The Most Common Dental Emergencies
It's not always easy to tell if what you're experiencing is a dental emergency. A good rule to go by is if you've damaged a tooth, are experiencing pain, or have any sort of concerning symptoms, we want to hear from you right away! Even if you're unsure if your situation requires urgent dental care, we encourage you to give us a call anyways. We can help you determine how quickly you need to be seen and give you the appropriate first-aid instructions to minimize your risk of further damage. Below, you'll find some of the most common dental emergencies we treat.
Understanding the Cost of Dental Emergencies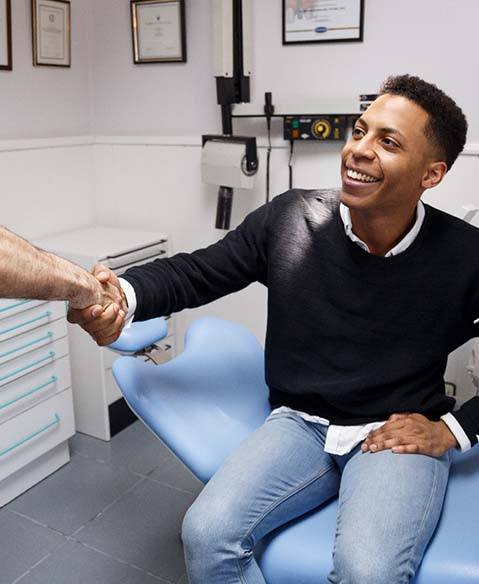 Every dental emergency is different, which is why we aren't able to determine what treatment you need or how much it will cost until after we've had a chance to examine your mouth. After we've collected all of the information we need to diagnose the problem, we'll walk you through all of your treatment options, along with pricing details. If you have any concerns or questions, don't hesitate to ask us !
Treating Your Unique Dental Emergency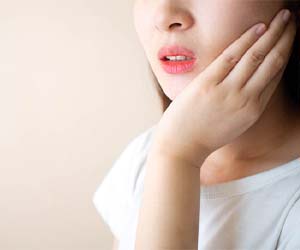 Again, we can't say for sure what procedure you'll need without first taking a look at the issue in your mouth. In other words, two patients who have the same problem could require different treatments. For example, one toothache may be more severe, requiring a root canal and dental crown, but another patient with a toothache may only need a filling. Regardless of your situation, we will find the most conservative options possible to relieve your pain and help you save on the cost of emergency dentist in Fayetteville.
Does Dental Insurance Cover Dental Emergencies?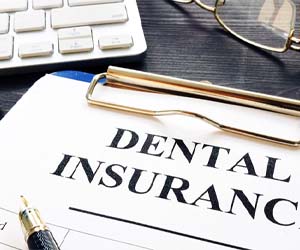 At Sparkling Smiles, we put your comfort and needs first and don't sacrifice quality of care to satisfy dental insurance. Although our dental office is out-of-network, you can rely on our caring team to be completely transparent about cost at every step of the process. If you'd like, we can assist you with filing reimbursement claims with your insurance company to decrease your out-of-pocket costs. Coverage varies from plan to plan; however, most dental insurance policies generally cover part of the cost of treating certain dental emergencies.
Other Options for Making Dental Emergencies Affordable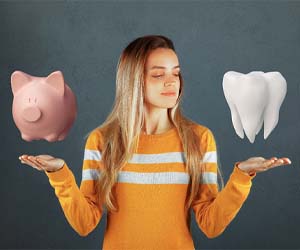 We understand that emergency situations come with significant stress. We want to put you at ease, which is why we are willing to work with you on payment for your emergency visit. For instance, we are now offering a $99 special deal for an emergency visit! We can also help you apply for low-interest financing with CareCredit to break up the total cost into easier monthly payments. That way, basically any treatment can more comfortably fit in your budget.
Taking Care Of Your Smile Can Save You Money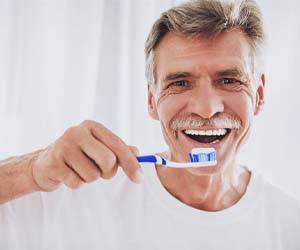 Do you want to know the best way to save money on dental emergencies? A preventive approach helps you avoid these costly problems in the first place. Daily maintenance (i.e., brushing and flossing) helps to keep harmful bacteria in check, and making smart choices every day, such as wearing a mouthguard while playing sports, can greatly reduce your chances of experiencing a dental emergency. Coming in for regular checkups and cleanings also play a vital role in preventing more serious emergency situations later on. These steps are a small investment of your time and effort upfront, but they could save you hundreds or even thousands of dollars overall.
Keys to Preventing Dental Emergencies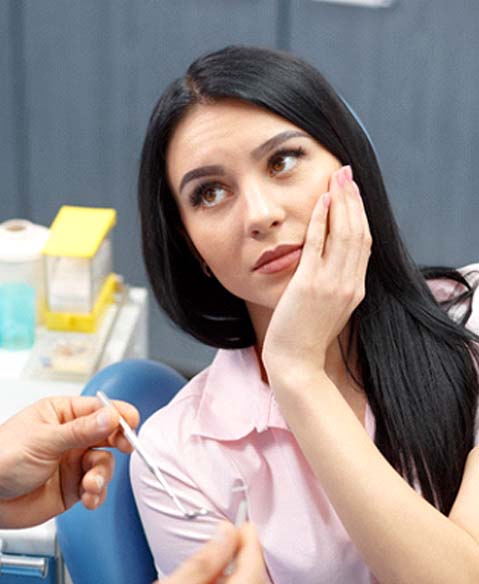 Not every dental emergency can be prevented. Some situations pop up unexpectedly, despite your best efforts to stay healthy. However, many dental emergencies can be avoided when you make certain choices in your lifestyle. If you want to preserve your smile and not face expensive treatment, here are some things you should do. Although these decisions may seem small, they significantly reduce your risk of experiencing dental pain and keep your smile strong!
Visit Your Dentist Regularly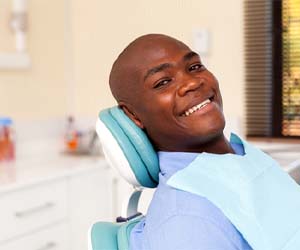 At Sparkling Smiles Fayetteville, we encourage all patients to come to our dental office at least every six months not just because we love seeing everyone but also because these visits are essential for preventing dental emergencies. During your routine checkup and cleaning appointment, we remove plaque that could otherwise lead to a cavity, and we look for any early signs of trouble, helping you avoid unnecessary pain and damage later on.
Maintain Good Oral Hygiene At Home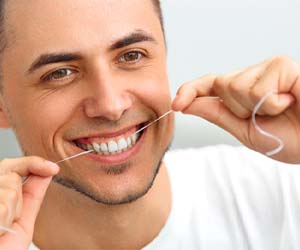 Taking care of your smile requires daily effort. Fortunately, these healthy habits only take a few minutes, but they can have an enormous effect in preventing dental emergencies. Brushing your teeth twice and flossing once every day can go a long way to clearing out damaging plaque buildup, stopping cavities from having the chance to form on your teeth. It's important to be consistent so be sure to fit these habits into your everyday schedule.
Choose a Nutritious Diet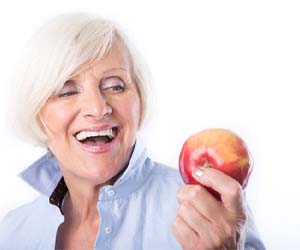 The foods you eat have an impact on your oral health. For instance, if you eat excess amounts of sugar or carbohydrates, harmful bacteria in your mouth can reproduce faster and eventually lead to a cavity. By limiting sugary, acidic, and processed foods, you help to keep decay-causing bacteria under control and protect your enamel. In addition, you can strengthen your teeth and gums against infection by eating foods with helpful nutrients like Vitamin C, calcium, and Vitamin D.
Wear a Mouthguard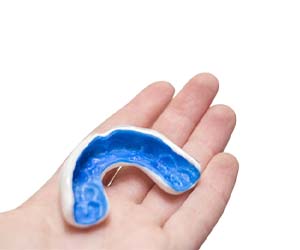 You may already know that if you play football or hockey you need to have a mouthguard. However, there are other situations where this oral appliance comes in handy. In any activity where you could suffer a hit to the face, even in noncontact sports or activities, you should consider wearing a mouthguard to protect your teeth from an injury. We know that store-bought mouthguards often feel uncomfortable or don't fit correctly, which is why we provide custom mouthguards. Just ask us about them at your next appointment!
Use Tools to Open Packaging, Not Your Teeth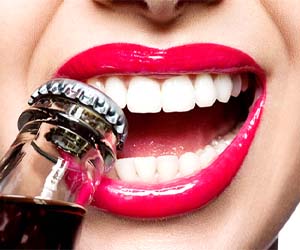 Your teeth are designed to crush and grind your food. They can withstand a significant amount of pressure to break down food for digestion. However, your teeth were not designed to bite into plastic packaging. If you are struggling to open a bag or bottle or you need to tear something, do not use your teeth. Find the appropriate tool, like scissors, to perform these tasks to spare your teeth from chips, cracks, and other avoidable damage.
Dental Emergency FAQs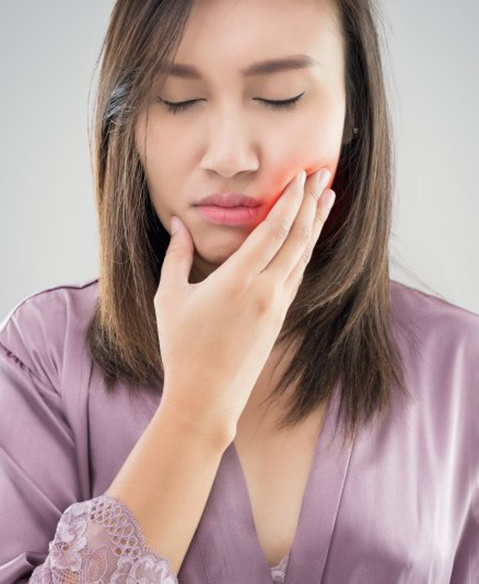 It is common to have many questions when a dental emergency occurs. Hopefully, by now you know where to turn for help—Sparkling Smiles Fayetteville! However, we understand that there are still many unknowns in these kinds of situations. We invite you to ask our team for advice while you're scheduling an emergency appointment, but we've also answered some common questions right here for your convenience.
Do Chipped Teeth Heal?
Enamel does not grow back after it is gone. In other words, a chipped tooth will not become whole again without professional treatment. To prevent cuts to your soft tissues, exposure to bacteria for the inner layers of the tooth, and any self-consciousness about your smile, you need to reach out to our team right away. Through composite resin, a porcelain veneer, or a dental crown, we can restore the tooth's function and appearance quickly so you and your smile don't miss a beat.
How Can I Sleep with a Toothache?
Sometimes, treatment for a toothache has to wait until the following day. If this is the case for you, the thought of enduring a night can feel impossible, but you can make it and get much-needed rest! First, avoid eating acidic, sugary, or hard foods, which can trigger pain, right before bed. Prior to trying to fall asleep, make sure you take an over-the-counter pain reliever, and feel free to use a cold compress to help further numb the area.
What Should I Keep in a Dental Emergency Kit?
Just as every household should have a first-aid kit handy, a dental emergency kit can help you deal with an oral problem in a pinch. Obviously, a kit won't replace a visit to our office, but it can help you address the immediate symptoms. A dental emergency kit should have the following supplies in it:
Over-the-counter pain reliever and anti-inflammation medication like ibuprofen
Gauze
Floss
A small storage container to hold a tooth or restoration
Sterile gloves
Cotton balls
Petroleum jelly
Topical anesthetic such as Orajel or something similar
Ice pack
Contact information to our dental practice
When Should I Go to the Emergency Room for a Dental Emergency?
In general, emergency rooms are not equipped or qualified to handle any dental issues. In fact, it is against the law for emergency room doctors to remove a tooth. However, there are some instances when going to the emergency prior to the dentist is necessary, such as if you have a broken jawbone, uncontrolled and prolonged bleeding, or deep lacerations. Once these issues have been taken care of with a medical physician, our team can handle the rest of your dental care.