Dentures – Fayetteville, GA
Quickly & Easily
Regain Your Smile
Are you missing most or all your teeth? You're certainly not alone! Millions of Americans are dealing with extensive tooth loss on a daily basis. Missing teeth can have a negative impact on nearly every aspect of your wellbeing, including your health, confidence, and quality of life. Thankfully, you can quickly and easily regain your smile with custom-made dentures in Fayetteville! Our talented team here at Sparkling Smiles Fayetteville is proud to offer high-quality partial and full dentures as well as implant dentures. If you'd like to learn more, keep reading below or give us a call to schedule your consultation.
Why Choose Sparkling Smiles Fayetteville For Dentures?
#1 High-Quality Materials for Beautiful, Long-Lasting Results
#2 Friendly, Personalized, and Judgement-Free Dentistry
#3 Flexible Financing Available & Dental Insurance Welcome
Who Is a Good Candidate for Dentures?
Dentures have been one of the most popular ways to overcome extensive tooth loss for decades, and it's easy to see why. These custom-made restorations are the perfect option for practically any patient missing most or all their teeth! In order to be a good candidate, it's important that you're in good oral health. If you currently have gum disease or decayed teeth, we'll help you overcome these problems first before restoring your smile.
Types of Dentures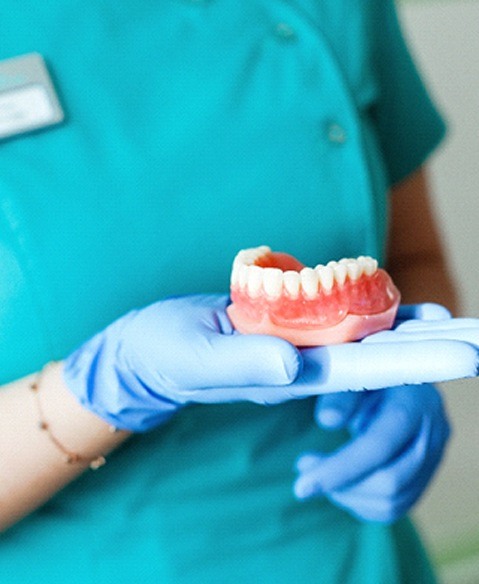 During your initial consultation, Dr. Lee or Dr. Polito will take the time to get to know you and your goals for your smile. Next, they'll evaluate your oral health and go over your tooth replacement options. Many patients are surprised to learn that there are several different types of dentures to choose from. Depending on your specific circumstances, we may recommend one of the following: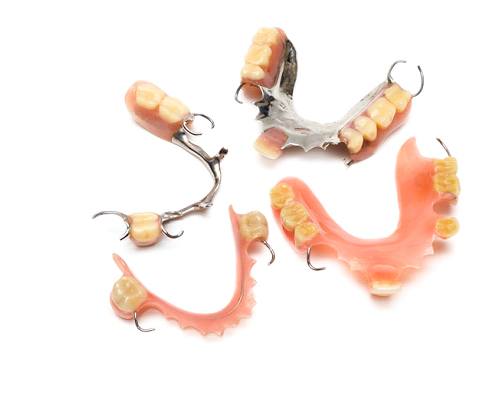 Partial Dentures
Partial dentures are sometimes just called partials. These restorations are designed to replace multiple missing teeth throughout the mouth like a puzzle piece. Replacement teeth set into a gum-colored base fit between remaining teeth and are held in place by discreet metal clasps.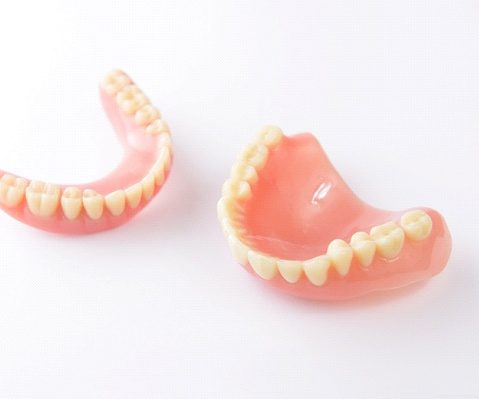 Full Dentures
Full dentures are likely what comes to mind when you hear the word "dentures." This type of restoration replaces an entire arch of missing teeth. The acrylic gum-colored base is precisely crafted to fit snugly on top of the gums, which creates a natural suction to hold the denture in place.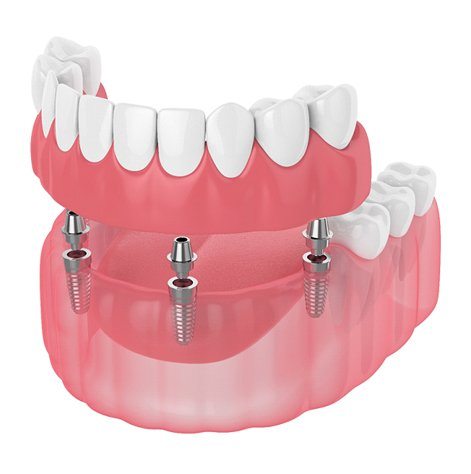 Implant Dentures
The newest advancement in tooth replacement is dental implants. These small titanium posts are placed into the jawbone like tooth roots to support all manner of restorations, including full and partial dentures. Implant dentures require a strong jawbone and a more involved process, but they offer the most lifelike results!
The Benefits of Dentures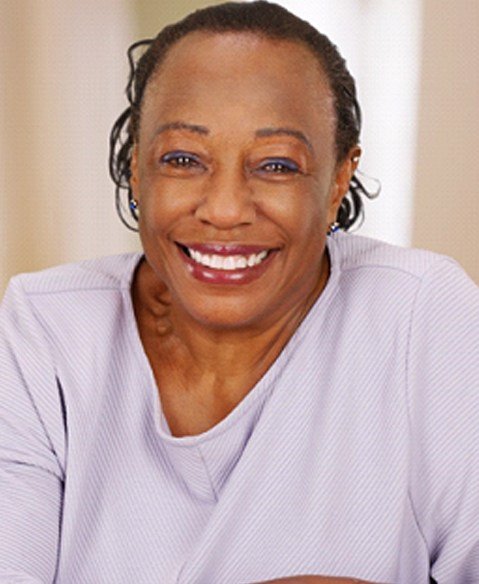 When you choose to replace your missing teeth with dentures, you can expect to enjoy:
A quick and relatively non-invasive treatment.
Durable, natural-looking results.
Restored ability to chew and enjoy a full, nutritious diet.
A filled-out facial appearance and more youthful features.
A cost-effective means of replacing missing teeth and avoiding many of the complications that come with tooth loss.