Dentures – Fayetteville, GA
Quickly & Easily
Regain Your Smile
Are you missing most or all your teeth? You're certainly not alone! Millions of Americans are dealing with extensive tooth loss on a daily basis. Missing teeth can have a negative impact on nearly every aspect of your wellbeing, including your health, confidence, and quality of life. Thankfully, you can quickly and easily regain your smile with custom-made dentures in Fayetteville! Our talented team here at Sparkling Smiles Fayetteville is proud to offer high-quality partial and full dentures as well as implant dentures. If you'd like to learn more, keep reading below or give us a call to schedule your consultation.
Why Choose Sparkling Smiles Fayetteville For Dentures?
#1 High-Quality Materials for Beautiful, Long-Lasting Results
#2 Friendly, Personalized, and Judgement-Free Dentistry
#3 Flexible Financing Available & Dental Insurance Welcome
Who Is a Good Candidate for Dentures?
Dentures have been one of the most popular ways to overcome extensive tooth loss for decades, and it's easy to see why. These custom-made restorations are the perfect option for practically any patient missing most or all their teeth! In order to be a good candidate, it's important that you're in good oral health. If you currently have gum disease or decayed teeth, we'll help you overcome these problems first before restoring your smile.
Types of Dentures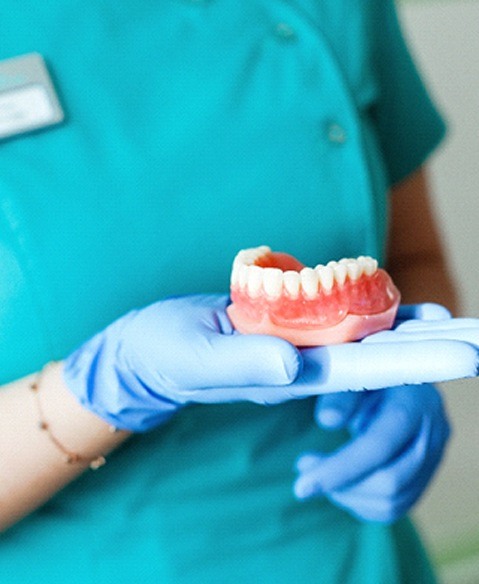 During your initial consultation, Dr. Lee or Dr. Polito will take the time to get to know you and your goals for your smile. Next, they'll evaluate your oral health and go over your tooth replacement options. Many patients are surprised to learn that there are several different types of dentures to choose from. Depending on your specific circumstances, we may recommend one of the following: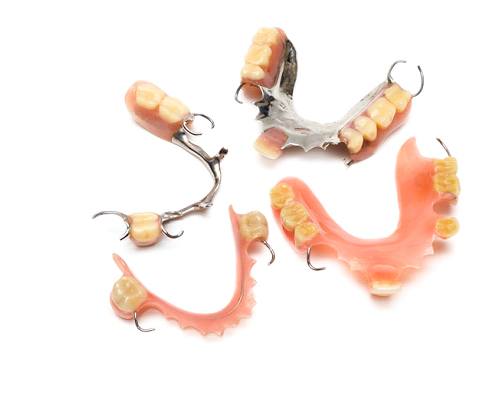 Partial Dentures
Partial dentures are sometimes just called partials. These restorations are designed to replace multiple missing teeth throughout the mouth like a puzzle piece. Replacement teeth set into a gum-colored base fit between remaining teeth and are held in place by discreet metal clasps.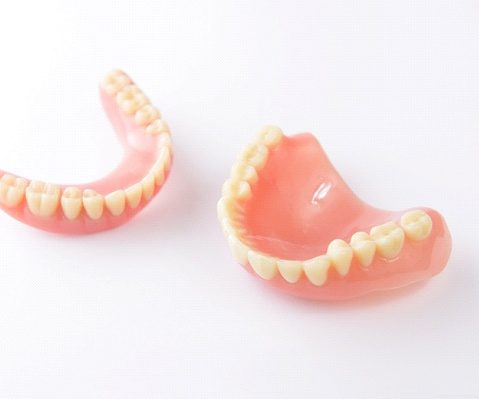 Full Dentures
Full dentures are likely what comes to mind when you hear the word "dentures." This type of restoration replaces an entire arch of missing teeth. The acrylic gum-colored base is precisely crafted to fit snugly on top of the gums, which creates a natural suction to hold the denture in place.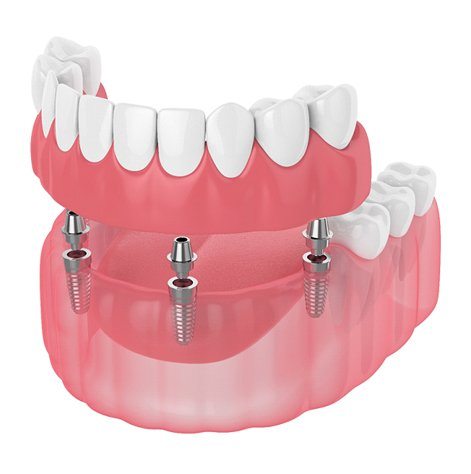 Implant Dentures
The newest advancement in tooth replacement is dental implants. These small titanium posts are placed into the jawbone like tooth roots to support all manner of restorations, including full and partial dentures. Implant dentures require a strong jawbone and a more involved process, but they offer the most lifelike results!
The Benefits of Dentures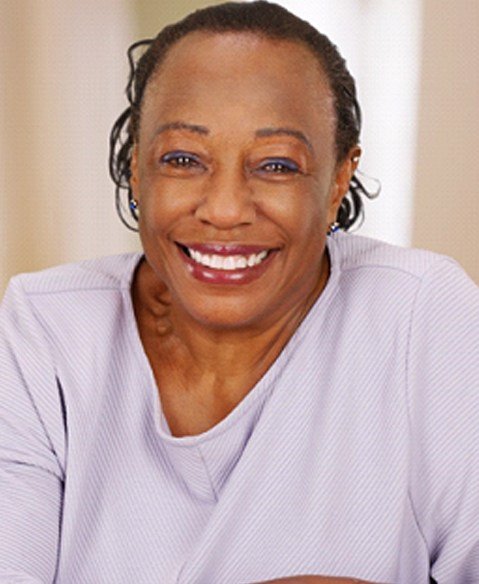 When you choose to replace your missing teeth with dentures, you can expect to enjoy:
A quick and relatively non-invasive treatment.
Durable, natural-looking results.
Restored ability to chew and enjoy a full, nutritious diet.
A filled-out facial appearance and more youthful features.
A cost-effective means of replacing missing teeth and avoiding many of the complications that come with tooth loss.
Understanding the Cost of Dentures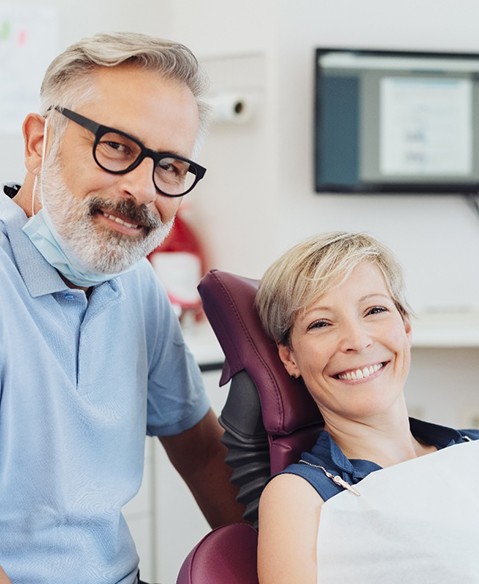 Curious about the cost of dentures in Fayetteville? The best way to get an estimate is by scheduling an appointment with our team. That way, we can provide you with a more accurate price with your dental needs and smile goals in mind. Of course, if you want to learn more about the financial commitment beforehand, we've got you covered. Keep reading to learn about a few factors that impact the final cost.
Factors That Affect the Cost of Dentures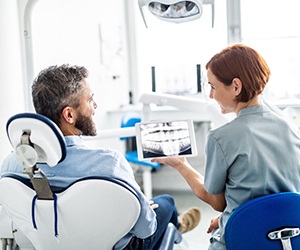 At your initial consultation, our denture dentist in Fayetteville will take the time to learn more about your dental needs and smile goals one-on-one. With this information, they'll determine:
If any preparatory work is needed, like tooth extractions
The severity of your tooth loss
The material your dentures will be made of (porcelain, acrylic, etc.)
It's worth mentioning in this section that cheaper usually isn't better, especially when it comes to something as important as your bite and smile. Flimsier materials may save you money upfront, but they aren't as durable, they don't look natural, and they can break easier. So, you may end up spending more money in the long run if you opt for cheaper alternatives at first.
Are Implant Dentures More Expensive?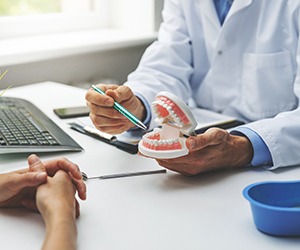 Since implant dentures in Fayetteville require oral surgery, they typically are more expensive. However, with the bigger price comes bigger benefits. For example, while traditional dentures can last for 7+ years with proper care, implant dentures can last 30+ years. Since the implants are inserted directly into your jawbone, they also provide unmatched stability and are the only tooth-replacement solution that stimulates your jawbone.
Does Dental Insurance Cover Dentures?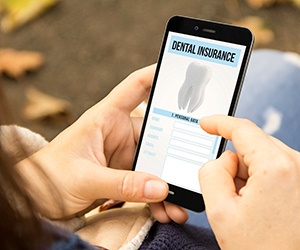 Although the exact answer depends on your specific dental plan, there is a good chance that your dental insurance provider will cover a portion of the cost. To make the process more predictable, we encourage you to provide our team with your insurance information beforehand. From there, we can file your claims and do our part to maximize your benefits to the fullest.
Other Options for Making Dentures Affordable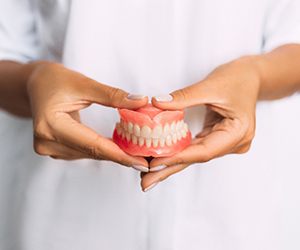 If you don't have dental insurance, don't worry – there are other financial solutions available. First, our team happily welcomes flexible financing through CareCredit, a trusted third-party financier. As a result, you don't have to pay for the entire cost of dentures upfront. Instead, you can choose a payment plan that best suits your budget. We also offer periodic special offers, so don't hesitate to get in touch with our team to learn the latest ones.
Denture FAQs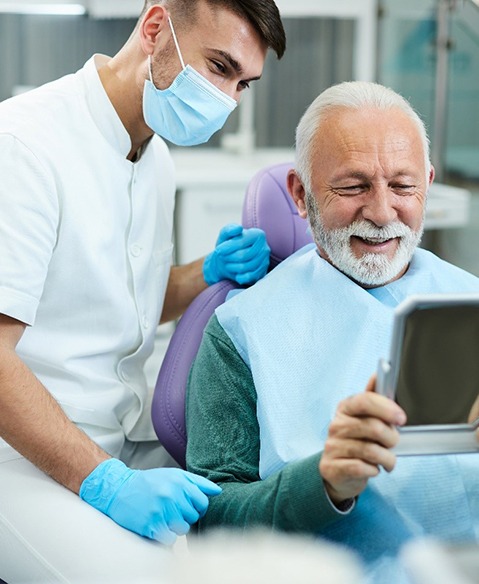 Deciding to commit to dentures in Fayetteville is a big choice, so naturally you want to know as much about them as possible. The best way to get all of your specific questions answered is by scheduling a consultation with our team. However, we know that many patients like doing some research online beforehand, which is why we've answered some of the most frequently asked questions about dentures right here!
What Can't You Eat with Dentures?
If you've been struggling with tooth loss, you'll be happy to know that dentures allow you to enjoy a much more varied diet. Of course, there are a few things that can tug on and pull your dentures out of place, like peanut butter, gummy candies, and other sticky foods. So, it's best to avoid those altogether. A few other items that should be avoided are nuts, popcorn, raw apples, corn on the cob, and carrot sticks. These foods can put a lot of pressure on your dentures (and your gums), resulting in irritation and soreness. That's why it's best to stick to softer foods, like cooked veggies, mashed potatoes, and lean protein (like fish).
Is It Hard to Talk with Dentures?
When you first get your dentures, you'll likely experience a bit of a learning curve when it comes to speaking. After all, your mouth needs some time to adjust to them! Of course, the exact amount of time varies from patient to patient, but the adjustment period can be shortened with enough practice. Patients with dentures are encouraged to speak slowly, read out loud, and be patient. It can also be helpful to spend some extra time practicing more difficult words, like "sixty" and "Mississippi."
Can You Kiss with Dentures?
You can! It may take some time to get used to how it feels, but dentures certainly won't stop you from sharing a kiss with your special someone. Note: it's a good idea to be gentle, especially at the beginning. Nothing ruins the mood like accidentally bumping your dentures against your partner's teeth or lips!
Can I Use Regular Toothpaste to Clean My Dentures?
In short, the answer is "no." Regular toothpaste can leave small scratches on your dentures, which can make your smile look dull and damaged. To effectively clean your dentures, all you need is a soft-bristled toothbrush and some water. For a deeper clean, you can use a denture-specific or dentist-recommended cleaner as needed.
How Can I Reduce the Cost of Dentures?
If you're worried about the cost, don't worry – our denture dentist near Fayetteville offers several financial solutions! To begin, we welcome most dental insurances. So, if you want to utilize your available benefits, we can help. Second, we happily accept flexible financing through CareCredit, which allows you to space out your payments into budget-friendly chunks. Lastly, we offer periodic special offers. To learn about our latest ones, get in touch with our team!