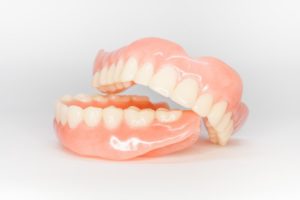 As you look forward to receiving your new dentures, you imagine that smile will return to the way it was before you had tooth loss. Although your new teeth will look natural, they aren't exactly the same as the real thing. Especially during the first month with dentures, you'll probably experience some discomfort, and normal oral functions may feel strange. During this time, be patient with yourself and keep the information in this post in mind.
Eating with Dentures
As with any skill, eating with dentures may take time and practice to master. It differs from how you used to eat, and if you aren't careful, you could easily hurt yourself. At first, you may need to stay away from overly crunchy or hard foods. In fact, you should start by eating soft foods exclusively until you learn how to maneuver food in your mouth without biting your tongue, scraping your gums, or causing your dentures to come loose. Begin with mashed potatoes, applesauce, and eggs and build up from there.
When you progress to harder foods, make sure you cut them into small bites. If you have traditional dentures, your replacement teeth are held in position from suction, and taking larger bites could exert more force than dentures and cause them to come out. You also need to avoid biting into certain foods with your front teeth for the same reason.
Speaking with Dentures
Just as your mouth must adjust to eating with dentures, speaking can also be challenging at first, especially if you've gone a long time with missing teeth. Also, keep in mind that you may produce more saliva than usual when you first put in your dentures. Over time, your mouth will become used to the dentures and stop salivating more.
In the meantime, this excess saliva just means you may need to pause to swallow it while you talk. To practice speaking with dentures, you can read aloud from a book, magazine, or blog post. As you continue to try new words and sounds, notice which ones are giving you trouble. Depending on the severity of the problem, your denture may need to be adjusted.
Denture Care
Even if all your teeth are false, it doesn't mean that your days of caring for your smile are over. Your gums can still become infected, impacting how your dentures fit and feel. As a result, you need to care for your dentures every day. After meals, brush your dentures and rinse them off with clean water. Then, while you sleep soak them in denture cleanser to kill potentially harmful bacteria.
It is normal to require adjustments as your mouth changes and as your dentures experience wear and tear. This is one of the reasons why you still must have regular dental visits!
Ultimately, time will pass, and your dentures will feel comfortable in your mouth, and you'll find a new normal, where you can eat and talk naturally. Just give it about a month to adjust!
About the Practice
Offering comprehensive services, Sparkling Smiles Fayetteville can help you replace missing teeth with dentures. In addition, Dr. Dave Lee and Dr. Lauren Lee Polito can provide dental implants for even more stability. Now through October 31, we are offering a free smile analysis, and we have a new patient special offer as well. So don't wait to get your smile back, and schedule an appointment with us online or call our office at 770-461-6465.