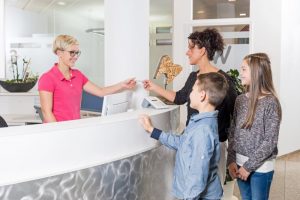 These days, everyone seems to feel a financial pinch. Every dollar counts, and you make sure your money is well spent. If you've been paying monthly dental insurance premiums, shouldn't you know what the money is actually paying for? Wouldn't you want to know how you can make the most of it? In this post, you'll learn how dental insurance works, how you can learn more about your coverage, and simple ways you can use your insurance to your advantage.
What Typical Dental Insurance Looks Like
Not every plan has the same coverage, so it's always smart to double check your benefits. However, many resemble the following in the services they cover:
80 to 100 percent coverage for preventive care like dental cleanings and checkups.
70 to 80 percent coverage for minor restorative care like tooth-colored fillings.
50 percent coverage for major restorative care like dental crowns or dentures.
Other areas of dental work, such as orthodontic treatment, can differ from plan to plan in the amount covered, but most dental insurance policies will pay for at least a portion of the cost. On the other hand, cosmetic procedures are typically not covered at all.
How to Know Your Coverage
With so much variation in benefits, it can be difficult to know what your insurance will provide for you. The most direct way to get answers about your coverage is to call your insurance provider, but this call could be a long wait or end in frustration. Fortunately, you may also work with your dentist's office. Their staff may be familiar with, or can find out about, your insurance and may be able to explain what is and isn't covered for a specific treatment.
Maximizing Your Benefits
When you look at the services that dental insurance generally provides for, there is a clear emphasis on preventive services and early treatment. In many cases, patients can get checkups and cleanings done at no additional cost! Although routine, these visits not only can save you on out-of-pocket costs but also play an imperative role in keeping your smile healthy and reducing the need for more advanced care in the future. If you want to get the most value out of your dental insurance, you need to take a preventive approach to your oral health care and attend these two checkups and cleanings per year.
Although the world of dental insurance can be a little confusing at first, this basic information can give you a foundation to start with. With this understanding, you can go into various treatments more prepared and having a better idea of what you will be expected to pay out-of-pocket and what will be covered by your insurance plan.
About the Practice
Sparkling Smiles Fayetteville has been helping patients in the community smile for nearly 40 years. Throughout his long career, Dr. Dave Lee has studied at some of the most prestigious institutions in dentistry like the L.D. Pankey Institute and the Las Vegas Institute of Advanced Dental Education, among others. His daughter, Dr. Lauren Lee Polito, has a decade of dentistry experience under her belt and is excited to be serving her hometown. The team at Sparkling Smiles accepts most dental insurances and is happy to answer questions about coverage. If you would like to schedule an appointment, you can contact the office through their website or call 770-461-6465.