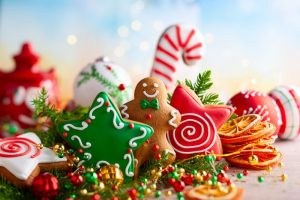 When you think of the holiday season, you may look forward to seeing twinkling lights, hearing beautiful music, and—of course—eating delicious food. But did you know that holiday foods can be damaging for your teeth and gums? If you don't want to deal with dental problems after the holidays with your dentist in Fayetteville, you need to be careful about what and how much you eat this season.
Bad Holiday Foods
With some foods, like candy canes or other sweets, it's easy to tell that they're bad for your teeth. Others, however, are much trickier. Here are some foods that you might not initially think are harmful but could be.
Stuffing
When you make stuffing, the recipe may not call for sugar, but bread contains lots of carbohydrates, which have a similar effect on the bacteria in your mouth. Cavity- and infection-causing bacteria thrive on carbohydrates and sugar, which means that you may want to rethink having another scoop of stuffing at dinner.
Baked Goodies
Santa may love cookies by the fireplace, but your teeth do not. Baked goods tend to have a lot of sugar and carbohydrates, which fuel acid-producing bacteria. Unfortunately, it can be difficult to avoid sweet treats during this time of year. You don't have to skip all cookies, bread, pies, or other baked goods, but you can be more conscious about the amount and frequency of your snacking throughout the day.
Dried Fruit
At first glance, dried fruit may seem like a healthy alternative to more processed foods. However, dried fruit has had its moisture taken out, which means it has a higher concentration of sugar. It is also very sticky and can be challenging to remove from your teeth. If possible, choose to have fresh fruit instead of dried to reap the full nutritional benefits.
Ways to Save Your Smile This Season
In addition to simply cutting back on all these potentially harmful foods, there are other ways you can reduce the impact they have on your teeth. For instance, whether you're traveling or staying home, be sure to stick to your daily oral healthcare routine. Brushing and flossing every day stops plaque from building up and harming your smile.
In addition, instead of drinking eggnog, which has excessive amounts of sugar in it, you can primarily drink water. Taking sips throughout the day can help neutralize acids in your mouth and rinse away plaque. You can also time your sugary intake just after a meal, when your mouth naturally salivates more.
In the end, you can enjoy the holidays and the yummy food that comes with it. However, if you want to preserve your smile into the new year, you should be smart and stay on top of your dental health.
About the Practice
At Sparkling Smiles, we're proud to have a father-daughter team of dentists. Dr. Dave Lee and Dr. Lauren Lee Polito dedicate many hours to continuing education every year to make sure they deliver the best possible care to our patients. Instead of rushing appointments to fit more in the schedule, they take time to get to know each one and customize treatment according to the individual patient's needs. If you would like to schedule an appointment at Sparkling Smiles, you can contact us by calling 770-461-6465 or by clicking here.