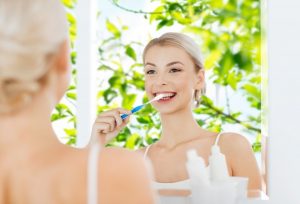 Sort out the attic. Clean the garage. It must be time for spring cleaning! While your home is getting plenty of attention right now, there's another important area you should also be concerned about keeping clean—your mouth!
Having a tidy smile isn't just aesthetically pleasing; it can impact your overall wellness. In fact, studies have shown that those who have poor oral health are more likely to develop heart disease or many other conditions, earn lower grades in school, and are even at higher risk of certain cancers. Just as keeping your house clean is essential to enjoying a comfortable, happy home, cleaning your teeth and gums is vital to feeling your best.
Here are some spring cleaning tips for your smile!
Switch Out Your Toothbrush
Has it been a while since you've changed your toothbrush? The American Dental Association recommends using a new toothbrush every three to four months. Even in this short amount of time, the bristles can bend and become less effective in cleaning your teeth. After all, you should be brushing twice every day! When you switch out your toothbrush on a regular basis, you don't have to work quite as hard to remove stains and plaque, helping you maintain a healthy smile.
Find the Right Oral Hygiene Products
In addition to a new, high-quality toothbrush, you need to be using fluoride toothpaste. This not only helps to clean your teeth but also strengthens your enamel against decay. If you struggle with tooth sensitivity or another issue, you can purchase more specialized toothpaste.
When it comes to achieving a truly clean smile, you can't forget to floss. Flossing clears out the tiny spaces between your teeth, where bacteria and plaque can accumulate. Whether you decide to use generic floss, hand-held flossers, or a water flosser, the important thing is that you're doing it! Choose whichever product you prefer to make it easier to floss every day.
In addition, you can take advantage of the various mouthwashes available. For instance, those trying to overcome or prevent gum disease should consider buying a antibacterial mouthwash, while others may benefit from a more fluoridated mouthwash for good measure.
Get a Professional Cleaning Regularly
As hard as you try to keep your teeth and gums clean on your own at home, you likely will not get everything. Plaque hardens (and turns into tartar) and builds up over time, and once this happens, only a professional can remove it. Without intervention, cavities and gum disease can develop, damaging your smile. To prevent these issues, you need to visit your dentist at least every six months.
In addition to clearing away tartar, a professional cleaning involves polishing your teeth. This means you leave the appointment with a brighter smile that feels squeaky clean!
Although maintaining your teeth and gums is something you should be working on all the time, not just during this time of year, now is a great time to get back on track if you haven't been consistent in your oral care. By following these tips, you can make your smile ready to take on anything!
About the Practice
At Sparkling Smiles Fayetteville, we are committed to helping patients achieve oral health. Although Dr. Dave Lee and Dr. Lauren Lee Polito have years of advanced training and technology to handle treating problems, they prefer to prevent issues from happening the first place by encouraging healthy habits. If you would like to schedule a cleaning and dental checkup with us, you can contact our office online or by calling us at 770-461-6465.