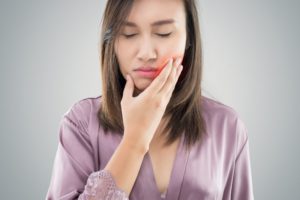 You didn't sleep well last night. Your face felt uncomfortable or even painful, and when you look in the mirror in the morning, you see that your face looks much puffier than usual. Facial swelling can be unsettling even when you only consider aesthetics, but it is actually something you should take seriously.
Keep reading to learn more about why this may happen and what you should do about it. Your emergency dentist is here to help you get back to normal!
Why You Shouldn't Ignore Facial Swelling
In addition to changing your appearance, facial swelling is an unusual symptom indicating that something more serious is happening. In other words, facial swelling is your body warning you of a problem through inflammation, and you need to heed it.
Causes of Facial Swelling
Unfortunately, this symptom could point to several issues, including the following.
Abscessed Tooth
Once decay reaches the center of the tooth, it can quickly penetrate through to the root, where a collection of pus can form underneath the gums. This is called an abscess, and it can make your face swell as well as feel extremely painful. Fortunately, your dentist can perform root canal therapy, which gets rid of the infected parts of the tooth and the abscess, allowing you to preserve your tooth and relieving your pain.
Salivary Gland Infection
Your salivary glands, located in the cheeks, can become infected. If this is the case, your dentist can diagnose the problem and help you get the necessary treatment for this condition.
Sinus Infection
If your facial swelling seems to be unrelated to your mouth, your dentist can recommend that you see an ear, nose, and throat doctor to see if you have a sinus infection and prescribe you medication to resolve it.
What to Do About Facial Swelling
Even though the reason behind your facial swelling may be unclear initially, the first move you make should always be to contact your dentist for an emergency appointment. This professional is often available on the same day as your call, and they can check for oral problems first.
If you have time between your call and your dental appointment, you may place a cold compress onto your face to help control the swelling and take over-the-counter pain reliever.
In the end, swelling is never a good sign anywhere in the body, including in your face. Your emergency dentist can help you identify the underlying cause and treat it quickly, helping you get back to full health again!
About the Practice
Sparkling Smiles Fayetteville is truly a family practice, in that we not only treat families when they need us most, but our dentists are father and daughter. When it comes to emergency care, Dr. Dave Lee and Dr. Lauren Lee Polito are happy to see same-day patients who are in pain. To contact our office in Fayetteville, GA, you can visit our Contact Us page online or call us at 770-046-16465.