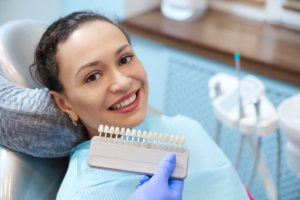 If you're tired of looking in the mirror and being met with a crooked set of pearly whites, you might be starting to weigh your options for having the issue addressed. You've heard about how orthodontics can sometimes be time-consuming, uncomfortable, and even a little costly, and you might be wondering if any other options exist for addressing misalignment. Luckily, veneers can sometimes serve as a possible solution! Keep reading to learn a little more about some of their unique benefits and how they can be utilized to give you a straighter smile without the hassle of traditional orthodontics.
Why Veneers Are Called "Instant Orthodontics"
If you're familiar with veneers, then you probably already know all about their many notable benefits. They're among the most versatile of all cosmetic dental treatments, capable of resolving issues such as staining, chips and cracks, gaps between teeth, and more. They can also be quickly created and bonded to teeth, often in as little as two dental visits. But in addition to improving the size, shape, and color of your teeth, did you know that veneers can also serve as a form of "instant orthodontics?"
They've been given this moniker since they have the potential to straighten your teeth without you having to wear braces or clear aligners for an extended amount of time—rather, as soon as they're bonded to your teeth, your smile is immediately given a straighter appearance! And better yet, veneers aren't accompanied by many of the guidelines that come with traditional orthodontics, such as food restrictions or the need for frequent checkups. It's important to note that for severe cases of misalignment, veneers usually aren't a viable option and traditional orthodontics are often the go-to route.
Tips for Caring for Your Veneers
That said, veneers don't come without a few stipulations—mainly that you'll need to care for them for them to last and remain beautiful! Luckily, this is relatively simple if you follow these tips:
Brush your teeth twice a day using a soft-bristled toothbrush coupled with fluoride toothpaste.
Floss every day—this habit is just as important as brushing, and only by doing them in tandem will you provide adequate protection for your veneers.
Minimize your consumption of dark-colored foods and drinks known to cause stains, such as coffee and tea. When possible, use a straw to drink these beverages.
Avoid bad oral habits like smoking, chewing tobacco, biting your nails, crunching on ice cubes, and using your teeth as tools.
Exercise caution when biting or chewing hard, crunchy, sticky, or chewy foods—veneers can still become dislodged with enough pressure!
Continue to visit your dentist for routine checkups and cleanings; this also grants your provider the opportunity to inspect your veneers for signs of damage.
Even though you might not think of them first when it comes to possible orthodontic solutions, veneers are certainly a viable option for addressing minor misalignment and helping you reach your smile goals!
About the Practice
Our team here at Sparkling Smiles Fayetteville is excited to provide patients and families in the Fayetteville, GA area with an unmatched level of dental care! Under the leadership of Dr. Dave Lee and Dr. Lauren Lee Polito, we're excited to offer a wide range of cosmetic services including veneers to assist patients with all kinds of aesthetic needs. If you have any questions about the blog or you'd like to schedule a visit with us, feel free to contact us online or by phone today! Telephone: (770) 461-6465.