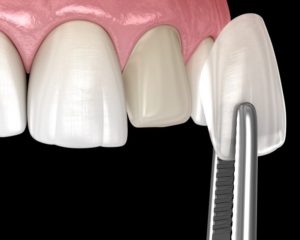 If you're like most people, change can be hard for you to accept. However, when it comes to your teeth, you'd love to be able to alter how they look, whether you have small chips, discoloration, or even minor misalignment. Still, you know that to give yourself the perfect smile will require changes to your natural teeth with porcelain veneers. In fact, part of the front enamel will have to come off—forever.
To put your mind at ease, keep reading to learn what enamel is, why it needs to be removed, and how much can help you achieve a more confident smile.
What Is Enamel?
The outer layer of your teeth is called enamel. It gives your teeth their durability and color. It also protects the more vulnerable and sensitive layers underneath. Unfortunately, if enamel is lost either through aggressive brushing, decay, or normal wear and tear, it is gone for good, which is why your dentist normally strives to preserve it whenever possible. But when it comes to correcting flaws with veneers, the front enamel must be modified.
Why Enamel Must Be Removed for Veneers
The idea of making a permanent change to your teeth's enamel may seem intimidating or negative, but it's a necessary part of the veneers process. Without it, your veneers would bulge out in front of your teeth, drawing unwanted attention and making your smile appear fake. To maintain a natural look, enamel in the front needs to be reduced to make space for the thin ceramic coverings.
How Much Enamel Is Taken Away for Veneers
The tiny amount of enamel that needs to be removed from your teeth is only about half of a millimeter thick. It is just enough to create room for the veneer to completely cover the front and present teeth that look naturally flawless.
Keep in mind that this small amount is also enough that you will not be able to change your mind or go without veneers in the future. Otherwise, your teeth will not only look slightly strange, but they will probably also be sensitive to hot, cold, and sugary substances because the enamel is so thin.
If you are still hesitant about moving forward with veneers, your dentist can show you before and after photos of patients they've treated before. Seeing the results for yourself may give you more confidence to make the transformation for your own smile. The amount of enamel that must come off is so small, and you stand to gain so much. It is well worthwhile!
About the Practice
At Sparkling Smiles in Fayetteville, GA, Dr. David Lee and Dr. Lauren Lee Polito are concerned about your smile goals as well as keeping teeth and gums healthy. If you want to improve how your smile appears, we offer veneers, teeth whitening, and cosmetic bonding as well as gum recontouring. To learn more about our services and how we can make your dream smile a reality, call our office at 770-461-6465 or contact us online.